Area Attractions
Hiking, State Parks, Forests and Natural Areas (Trail Maps):
Ash Cave:In the southernmost reaches of Hocking Hills is Ash Cave -beyond doubt the most spectacular feature of the entire park. Ash Cave is the largest, most impressive recess cave inthe state.
Old Man's Cave:The most popular of allthe Hocking
areas is Old Man's Cave, located on State Route 664. Here at the Upper Falls, the Grandma Gatewood Trail begins its six-mile course connecting three of the park's areas: Old Man's Cave to Cedar Falls to Ash Cave. This same trail has been designated as part of Ohio's Buckeye Trail as well as part of two national systems - the North Country Scenic Trail and America's Discovery Trail.
Cedar Falls: If one were to venture down the Lower Gorge of Old Man's Cave, you would eventually enter the picturesque valley of Queer Creek. At the point where Old Man's Creek merges with Queer Creek, the trail takes an abrupt turn east and enters this new valley. The trail leading to Cedar Falls passes through the most austere area in Hocking Hills. This remote, primitive chasm is laden with hemlock and bound by steep rock walls and their accompanying grottos and waterfalls. It is a wild and lonely but spectacularly beautiful place.
Conkle's Hollow, situated off S.R. 374 on Big Pine Road is a rugged, rocky gorge - considered one of the deepest in Ohio. The valley floor is a veritable wilderness covered by a profusion of ferns and wildflowers while hemlock, birch and other hardwood tower overhead. The growth is so thick in places that little or no sunlight reaches the deep valley floor.
Cantwell Cliffs is located in the northern reaches of Hocking Hills - 17 miles from Old Man's Cave on S.R. 374. Its remote location discourages visitation, but those who travel the extra distance will not be disappointed. Many visitors proclaim the Cantwell area as the most picturesque in Hocking County.
Rock House is unique in the Hocking Hills' region, as it is the only true cave in the park. It is a tunnel-like corridor situated midway up a 150-foot cliff of Blackhand sandstone.
The Clear Creek valley extends from the intersection of Clear Creek with the Hocking River in the east to the town of Revenge in the west. In 1996 the valley officially opened as Clear Creek Metro Park, part of the Franklin County Metro Parks system. The beauty of the Clear Creek valley comes from the overlap of geologic and climate zones. Here the prairies of the west meet the Appalachian forests of the east. Canadian hemlocks pushed south by glaciers meet southern species such as rhododendron. And it all rests on a bedrock of Blackhand sandstone.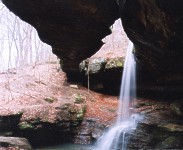 Rock Bridge: Ohio is a land of diverse geological features. Among the most unusual and spectacular formations are its natural rock bridges. Ohio has at least 12 such bridges.
Lake Logan: One of the best fishing lakes in Ohio awaits sportsmen in Hocking County at Lake Logan State Park. The lake sports northern pike, bass, bluegill, crappie, catfish and saugeye. Lake Logan isa day-use park that provides scenic picnic areas and secluded walking paths to enjoy the wooded beauty of Ohio's hill country.
Tar Hollow: Twisting park and forest roads pass through deep ravines and dense woodlands. Scattered shortleaf and pitch pines growing on the ridges were once a source of pine tar for early settlers, hence the name Tar Hollow. Dogwoods, redbuds and a variety of wildflowers color the hillsides in the springtime. Fall's pageant of color is spectacular.
The Hocking State Forest encompases over 9000 acres. A visit to the Hocking State Forest can take you back to the past and provide a glimpse of the future. The Rock climbing and rappelling area has ninety-nine acres of forest land set aside for rock climbing and rappelling. The area is located on Big Pine Road, one mile east of Conkle's Hollow. A parking area is within easy walking distance of the rock and cliff face. There you will find excellent terrain for this growing sport. Be sure to use quality equipment and climb with experienced people. Map of State Forest Land
Horsemen's Camp: Hocking State Forest offers a primative camping area for bridle trail users. The camp area is located off of the Laurel Township Road 231. This facility contains 23 campsites that are large enough to accomodate most rigs. A water supply is available for horses only. There is no fee for use of the area, but it is required that each camper complete a self registration form. Adjacent to the Horsemen's Camp is a staging and parking area for people using the bridle trails for not more than one day. This area is large enough to accomodate a number of day use rigs. (View map of bridle trails.)
Wayne National Forest is the only national forest in Ohio and is clustered in three areas. The northwestern cluster primarily spreads across Athens, Hocking and Perry Counties. The grounds include many areas that were strip mined in the late 1800s. Accordingly, the forest includes areas experiencing various degrees of reforestation. The Wayne National Forest boasts more than 2,000 species of plants, including hardwoods, pine and cedar as well as an endangered species, running buffalo clover. Wildlife includes bobcats, coyotes, eagles, hawks, osprey, wild turkey, turkey-vultures and songbirds as well as deer and beaver.
Waterfalls and Wildflower Tour: This tour was designed to let the visitor travel the back roads and see the wonders of the Hocking Hills from his car. Most of the waterfalls can be seen without getting out or, at most, walking a few feet. However, the route includes the state park system which does require some hiking.

Hocking County also offers natural areas that are accessible by permit only. Call 614-265-6453 for more details. They include:
Crane Hollow State Nature Preserve

Little Rocky

Hollow State Nature Preserve
Saltpetre Cave State Nature Preserve
Sheick Hollow State Nature Preserve
Sunday Creek State Wildlife Area
Things to Do:
Zip line Canopy Tours: Thrilling and scenic Hocking Hills zip line canopy adventure. Soar through primeval forests and over sandstone cliffs and waterfalls.
Brass Ring Golf Club: Unique and challenging 18-hole golf course. Full service clubhouse open to public. Fine Dining.
Hocking Hills Bike Trails: Cyclists will find paths and routes throughout the Hocking Hills Region. Checkout Lake Hope
State Parks mountain bike trails. Voted Ohio's top Mountain Bike Trail!
Hocking Hills Fall Foliage and Driving Routes offers visitors some of the most scenic driving routes available!
Hocking Valley Birding Trail: Discover Bird Watching in the Hocking Hills. Bird watching is the number one fastest growing outdoor recreational pursuit in the world! For information, checklists, events and trail maps visit website.
Hocking Hills Canoe Livery: Canoe, Kayak and Raft on the Hocking River. Day trips and special moonlight trips.
Hocking Hills Marina at Lake Logan: One of the most beautiful lakes in Ohio. Ideal for fishing, boating, bird watching and swimming. The marina has everything you need from boat rentals, bait and tackle to snacks and cold drinks.
Hocking Valley Scenic Railway: Scenic train rides in the Hocking Valley.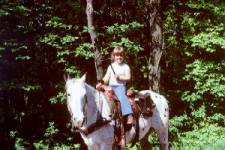 Spotted Horse Ranch: Spotted Horse Ranch is located along the scenic Laurel Run Canyon. View all four seasons of nature's beauty from horseback as you explore over 25 miles of quiet trails nestled in the Hocking Hills. They feature sanctioned NasHorse Barrel Racing as well as other events in our Lighted Outdoor Arena. They also have a Party Hall for special occasions.
Tecumseh!: We had the opportunity to experience this ultimate outdoor drama! Witness for yourself the epic life story of the legendary Shawnee leader as he struggles to defend his sacred homelands in the Ohio country during the late 1700's. "Tecumseh!" has been labeled as one of the most mesmerizing dramas in the nation.
Rempel's Grove Adventure Golf, Petting Zoo and Ice Cream: One of the most beautiful and challenging 18 hole miniature golf courses in America. Thousands of flowers, cave, waterfalls. Huge original wildlife carvings. Petting zoo. Ice Cream & Candy Shoppe.
Rock Climbing and Rappelling: Hocking Hills Rock Climbing and Rappelling is an adventure that will be remembered for life! Earth-Water-Rock specializes in Hocking Hills rock climbing, offering guided outings in the Hocking Forest.
Star Gazing: Enjoy the escape from city lights! Hocking Hills is revered by astronomers as one of the last few dark places in the Midwest!
Stuart's Opera House: Southeast Ohio's Showcase for the Performing Arts.
ATV Riding: The Wayne National Forest provides designated trails specifically for all-terrain vehicles (ATV's), horses and mountain bikes. Trails are open from April 16 through December 14. It can be accessed by four trail heads. In order to ride, you must purchase a trail permit. We suggest attaining those at Wayne National Forest HQ on State Route 33 in Nelsonville or the Baymont Inn & Suites in Logan, Ohio. Phone 740-385-1700. Another option for All Terrain (ATV) and Bike rental is Hocking Hills Nature Trails. The ATV rental and training facility is located on Sauerkraut Rd. in the Hocking Hills near the Big Pine Lodge. Beginner, intermediate and advanced with guided and unguided ATV trail riding, are available. There is even a mud bog. The bicycle rentals, through Hocking Hills Nature Trails, are offered at each end of the Hock-Hocking Adena Bikeway. This 19 mile Rails to Trails Bikeway is located between Nelsonville and Athens, Ohio. You can also rent bikes for one way.
Dining:
Inn at Cedar Falls: Fine dining in a 1840's log cabin. Full tavern in a casual atmosphere. The chef uses the finest fresh ingredients to prepare superb gourmet meals. Lunch and dinner. Dinner reservations required. 800-653-2557
Millstone BBQ: Southern Smoked BBQ meats are all smoked on site for fifteen to seventeen hours. Great service, fun atmosphere and unique flavors will call you to visit again and again.
Glenlaurel: A Scottish Country Inn with fine dining by reservation. 800-809-7378
Grouse Nest Restaurant: Just around the corner from Ash Cave. Open for lunch and dinner- featuring American cuisine. 740-332-4501
The Ridge Inn: Where fine dining meets home cooking! Modern, comfortable atmosphere with friendly staff and a great variety of daily specials, along with delectable special meals on weekends. Serving the area's best coffee, cappuccino and smoothies. 740-332-0300
Pizza Crossing: Located in Logan. Open 7 days a week. 740-385-8558
Brass Ring Restaurant & Lounge: Excellent array of fine steaks, salads and pasta. The dining room offers breathtaking views of the golf course and hills. 740-385-8966
Hocking Hills State Park Dining Lodge: Daily lunch & dinner buffets. 740-385-6495
Ravenwood Castle: Convivial Old English dining by reservation. 800-477-1541
Shaw's Restaurant & Inn: Award winning dining, Lancaster 800-654-2477
Etta's General Store and Lunchbox Cafe: Voted best of the road- editor's pick. Pizza, subs, salads, soups. 650 lunch boxes displayed. 740-380-0736
Olde Dutch Restaurant: Family style dining located in Logan. 740-385-1000
South Perry Carryout: Breakfast, subs, pizza, bait, groceries. 740-332-0630
Services:
Shopping:
Inn at Cedar Falls Gift Shop: Shopping at the Inn's Gift Shop is as unique as the Hocking Hills. One of our favorite places to visit. They comb the finest markets for unusual gifts and mementos. Shop for everything from works of art created by local artisans to lovely things for every season. Only 1.4 miles from our Cedar Grove Retreat property!
Appalachian Art and Craft Mall: Crafts and antiques. Delicious food and gourmet sweets!
Hocking Hills Market: One of the most unique markets featuring Amish furniture, antiques, collectibles and great food!
Grandma Fayes: Grocery and Deli. Firewood, Camping Supplies, Bait, Exchange, Large Gift Shop. 1 mile past Old Man's Cave on ST RT 664S. 740-385-9466
Ruby's Country Cupboard: Right around the corner from Red Wolf Falls. A country store with hard to find items along with trail mix snacks and refreshments.
Wind Chime Shop & Christmas Treasures: Largest collection of wind chimes in Ohio. Unique gifts and candles.
Old Bear's Den: A personal photographer will come to your cabin or other scenic locations throughout Hocking Hills to capture and preserve forever your experiences.
Churches:
Hocking Hills Church of Christ, 11808 Dalton Road, Logan 740-385-1899
First Church of Christ, 935 East Main Street, Logan 740-385-2578
Pine Grove United Methodist Church, Big Pine Rd & St Rt 374, Rockbridge 740-385-1744
St John Catholic Church, 351 Market St, Logan 740-385-2549
St Paul's Episcopal Church, 375 E. Main St, Logan 740-385-1005
St. Matthew Lutheran Church, 258 E Hunter St, Logan, 740-385-2272

Where to go for MORE INFO:

Hocking Hills Regional Welcome Center: Open 7 days a week. Located on SR664 just as you exit from US Hwy 33 on your way to the Big Pine Lodge. The center is packed with brochures, maps, ideas and very friendly people waiting to help plan your visit. 1-800-HOCKING

Second Hocking Hill's Visitor Center in Laurelville: Open weekends year round. Located in the log cabin at the Laurelville Fruit Farm on SR 56.

www.1800Hocking.com: The official website of the Hocking Hills Tourism Association- where you'll discover more fun-filled information about the region and Things to Do!

No portion of this website, pictures, maps, or information contained within can be used without written permission.